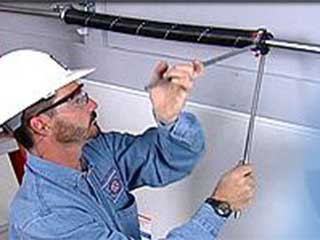 Have you checked your electric garage door lately? Are the panels in good shape? Are there any bent hinges? How about any strange noises? Our professional technicians are here to take care of them all for you.
Our Experts Can Take Care of Everything
Our garage door maintenance service covers the entire electric system with all of its different components and accessories, even including the opener remotes. Thanks to our extensive experience, our professional team can handle every system of every brand and model, new or old. Our work starts with a meticulous inspection of every part of your system and the careful testing of the spring, opener and safety sensors. We make the proper adjustments and repair or replace any malfunctioning component right away, thus keeping your door in excellent condition, which reduces the risk of accidents and unexpected issues.
Advanced Maintenance Procedure
With over 300 working parts, your electric garage door is quite a complex system. You can count on our team to take proper care of every single one of its components. We are downright meticulous when it comes to spring adjustment. We make sure the current tension always matches the weight of your door, which helps ensure its operation stays smooth and safe. Our technicians are equally skilled with fixing bent tracks and realigning them. If a component is worn-out or damaged beyond repair, rest assured we'll quickly replace it.
Your Opener Is in Good Hands
Our experts can easily take care of chain drive, belt drive and screw drive openers. We thoroughly inspect every part of these units, and make sure their force and travel limits are calibrated correctly. We also test the safety sensors in several different ways to be completely certain they work properly. These components are the "eyes" of your garage door, and they help make sure the system doesn't close while an object gets in its path, which is why ensuring their proper operation is downright crucial.
Call Garage Door Repair Salt Lake City today, so that you too can benefit from our professional maintenance services!
When it comes to your door, we don't settle! We also offer:
Garage Door Tune Up Services
Belt Drive Garage Door Openers
Garage Door Extension Spring Replacement