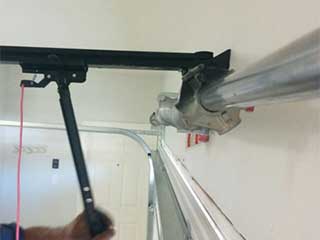 Being a handyman involves a lot of basic knowledge in many different areas. There always seems to be something to tighten, adjust, or lubricate. Your garage door also requires regular maintenance and inspection to ensure it stays in an optimal condition. There are quite a few things you can do on your own, just remember to leave the major issues to the experts.
A Lubricant is Your System's Best Friend
A little spritz of lubricant on some of the system's moving parts will make sure everything is running smoothly. These parts include springs, rollers and tracks, to name a few. Just apply the appropriate lubricant to them and then open and close your garage door several times to make sure it reaches all the necessary spots.
Tighten Every Loose Part
Maintenance usually involves a lot of examination. It's important to regularly inspect your garage door and tighten any nuts, bolts or screws that have gotten a little loose. The exception to this rule is the springs. If the springs appear loose, don't try to handle them by yourself. Instead, be sure to call our experts. The springs are tightly wound and can suddenly snap, which will result in serious injury to anyone standing by.
Don't Neglect the Opener
When doing a little maintenance on your garage door it's quite common to only pay attention to the system's moving parts. The garage door opener is often forgotten. Needless to say, your opener needs to be checked regularly just like the rest of the door. Its safety sensors in particular need to be tested. Open your door, place an object in its path and order it to close. If your door won't close, the sensors are working correctly. If it does close down on the object, call our technicians right away. Your sensors might have gotten misaligned.
Always Call For Professional Help
If you discover any issue with your door, be sure to contact our experts at Garage Door Repair Salt Lake City to get it fixed by our professional technicians. Dealing with complex garage door problems by yourself can be extremely dangerous. That's what we're here for. Contact us today.